On Line Transfomer Oil Purification
Our post oil treatment of regenerated transformer. We would like to inform you that, CEE DEE Vacuum with its advance method has done "On Load Transformer Drying, Desludging, Oil Regeneration process" last year. The oil values (Performance) achieved was excellent & was as good as New Oil (IS 335).
To retain, these qualities of oil & transformer drying performance for long duration of time, we strongly recommend end user to go for "ON – LOAD" Transformer oil purification & Drying process. This "On – Load" drying/purification process will maintain oil quality as well as dryness of insulation inside Transformer.
In case some of the oil parameters crosses its limits of acceptance, then its should be Regenerated again considering the valves disturb. Hence to maintain oil in good condition, please process the transformer oil purification "on-line – on-load"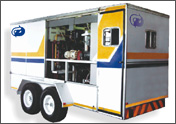 Skid Mounted High Vacuum Insulating Oil Filter Plant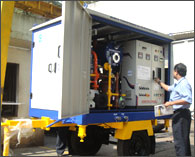 Mobile - TRANSFORMER OIL FILTRATION PLANT\

Main characteristics

•

Capacity from 3000 LPH

•

Easy to clean inlet mesh filter to catch hold coarse dirt

•

Standard efficiency 1 Micron cartridge filter.

•

Heat exchange through very low specific power electric heaters.

•

Degassing column with either single, two or three stage version.

•

Vacuum Pump set with rotary vane vacuum pump and roots pump to improve the vacuum pumping speed.

•

Compact easy to operate equipment supplied with pneumatic wheels for an easy transport on roads
Optional Features
A condenser to send the most volatile oil fractions which might distil back to the column.
An exhaust condenser to measure the extracted water
Digital temperature measurement.
Digital precision vacuum gauge Digital flow meter
Digital inline moisture and gas content meter
Ionic reaction columns to remove the acidity from the oil
Audio / Visible fault announcement system
PLC control system
Applications

Electric Power Generating Plant

Chemical Plants

Power Distribution and Transmission facilities

Steel Mills

Paper mills

EDM Machines

Refineries

Semiconductors plants etc.
Services

Menu
Quick Links